Did You know

that

St. Joseph was also present at the last Apparition of Fatima in October during the Miracle of the Sun? The children saw him Blessing the world with the Child Jesus in his arms while the crowd

beheld

the

sun spinning towards the earth.



Sr. Lucia describes what she beheld during the Miracle of the Sun:
"Our Lady having disappeared in the immensity of the firmament, we saw, beside the sun, Saint Joseph with the Child Jesus and Our Lady clothed in white with a blue mantle. Saint Joseph and the Child Jesus seemed to bless the world with gestures which they made with their hands in the form of a cross.
Soon after, that apparition having ceased, I saw Our Lord and Our Lady, Who gave me the impression of being Our Lady of Sorrows. Our Lord seemed to bless the world in the same manner as Saint Joseph. That apparition disappeared and it seemed to me that I saw Our Lady again, this time as Our Lady of Mount Carmel.
These three visions taken separately in meditation have their own messages for us that will have to be taken up in some future post. All the visions taken together are connected to the dominant message of Fatima: the Holy Rosary and the brown Scapular. Our Lady asked that the Rosary be prayed in all six of her apparitions at Fatima. Even saying that Francisco before he will be taken to Heaven that "he must first say many Rosaries." The three visions during the miracle of the sun reflect the mysteries of the Holy Rosary at that time. The Luminous Mysteries were not yet given to the church. If we follow her request: Through the Rosary and the Scapular Our Lady will save the world!
In the visions of the Holy Family and St Joseph we find the Joyful mysteries; the Sorrowful mysteries are represented by the vision of Our Lord and Our Lady of Sorrows; and the Glorious mysteries are represented in the vision of Our Lady of Mt. Carmel.
When the visions had disappeared and the sun was again normal, Lucy was placed on the shoulder of a man in the crowd and carried safely through the masses to the road. As she was moving past the people, she cried out to them, pleading one of the important themes in the Fatima Message: to convert, return to God and to flee sin. Her exact words were: "Do penance! Do penance! Our Lady wants you to do penance!"
For more details on St Joseph and Fatima with Historical Timelines Linking St. Joseph

and

Fatima with May Day

&

Vatican II

.

Also

e

vents

l

eading to the end of Soviet Unio

n
.
Follow the link below:
St. Joseph Protector of Church Named Patron of Workers May Day 1955!
Pope Emeritus Benedict XVI
Let us also

p

ray

to St. Joseph

for
Pope Emeritus Benedict XVI
his ba

ptismal name is Joseph Ratzinger!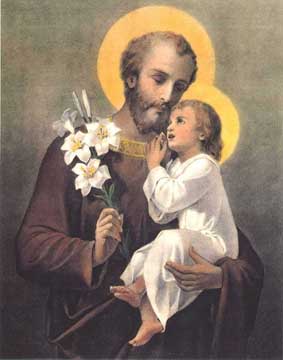 Oh, St. Joseph, whose protection is so great, so prompt, so strong, before the throne of God, I place in you all my interests and desires.Oh, St. Joseph, do assist me by your powerful intercession, and obtain for me from your Divine Son
all spiritual blessings, through Jesus Christ, our Lord. So that, having engaged here below your heavenly power, I may offer my thanksgiving and homage to the most Loving of Fathers. Oh, St. Joseph, I never weary contemplating you and Jesus asleep in your arms; I dare not approach while He reposes near your heart. Press Him in my name and kiss His fine Head for me and Ask Him to return the Kiss when I draw my dying breath. St. Joseph, Patron of departed souls - pray for me that I may be made worthy of the promises of Christ.
The above prayer was found in the fiftieth year of our Lord and Savior Jesus Christ. In 1505 it was sent from the Pope to Emperor Charles, when he was going into battle. Whoever shall read this prayer or hear it, or keep it about themselves, shall never die a sudden death or be drowned, nor shall poison take effect on them; neither shall they fall into the hands of the enemy, or shall be burned in any fire or shall be overpowered in any battle. Say for nine mornings in a row for anything you may desire. It has never been known to fail
.
Back of prayer card Imprimatur: September 25, 1950 Hugh C. Boyle, Bishop of Pittsburgh.
Efficacious Prayer to St. Joseph
Glorious St. Joseph, model of all who are devoted to labor, obtain for me the grace to work in the spirit of penance in expiation of my many sins; to work conscientiously by placing duty above my inclinations; to gratefully and joyously deem it an honor to employ and to develop by my labor the gifts I have received from almighty God. To work peacefully, and in moderation and patience, without ever shrinking through weariness or difficulty. To work above all, with purity of intention, having unceasingly before my eyes the hour of my death and the account I have to render to God of time lost, talents unused, of good not done, and my empty pride in success, so baneful to the work of God. All for Jesus, all for Mary, all to imitate thee, O patriarch St. Joseph! This shall be my motto for life and eternity." -
Pope Pius IX
St. Teresa of Avila and her
devotion

to St. Joseph
"I took for my advocate and lord the glorious Saint Joseph and commended myself earnestly to him; and I found that this my father and lord delivered me both from this trouble and also from other and greater troubles concerning my honor and the loss of my soul, and that he gave me greater blessings than I could ask of him. I do not remember even now that I have ever asked anything of him which he has failed to grant. I am astonished at the great favors which God has bestowed on me through this blessed saint, and at the perils from which He has freed me, both in body and in soul. To other saints the Lord seems to have given grace to succor us in some of our necessities but of this glorious saint my experience is that he succors us in them all and that the Lord wishes to teach us that as He was Himself subject to him on earth (for, being His guardian and being called His father, he could command Him) just so in Heaven He still does all that he asks. This has also been the experience of other persons whom I have advised to commend themselves to him; and even to-day there are many who have great devotion to him through having experienced this truth."
From "The Autobiography of St. Teresa", chapter 6...
"What great advantages come from commending yourself to this glorious patriarch and having devotion to him. Those who practice prayer should have a special affection for him always. Anyone who cannot find a director to teach prayer should take this glorious saint for his master, and he will not go astray"
The Autobiography of St. Teresa
"I wish I could persuade everyone to be devoted to this glorious saint, for I have great experience of the blessings which he can obtain from God. I have never known anyone to be truly devoted to him and render him particular services who did not notably advance in virtue, for he gives very real help to souls who commend themselves to him. For some years now, I think, I have made some request of him every year on his festival and I have always had it granted. If my petition is in any way ill directed, he directs it aright for my greater good."
The Autobiography of St. Teresa
Following the directives of St. Theresa of Avilia

a

s a Marian Catechist and secular Carmelite living in the world

I have turned to St. Joseph in all my needs. He has answered many prayers in desperate moments that have arisen over the years and I wish to thank him today on his Feast for the many graces and blessings he has obtained for me spiritual and temporal. I am grateful to him and await the delayed mercies I have placed in his
fatherly care!
Persevere with the above prayers or any prayer to this saint so close to the Hearts of Jesus and Mary for yourselves your families and the needs of the universal church in this battle we are presently engaged against the powers of darkness.
St Joseph Ora pro Nobis
ITE AD JOSEPH! --GO TO JOSEPH!